Dayantha Mendis
Instructor
Contact
Education
Biography
Mr. Dayantha Mendis graduated in law and was called to the Bar in Sri Lanka where he practised law at the metropolitan Bar. Later on, he obtained post-graduate qualifications from the University of Cambridge (Trinity Hall) in the UK in International Law and Relations. He was a Research Scholar at The Hague Academy at the Peace Palace in Den Haag and also served as Visiting Scholar for the Centre for International Studies at Cambridge University, UK.
Dayantha Mendis has held many positions in his own country and abroad. He was Senior Legal Draftsman (Sri Lanka), First Parliamentary Counsel and Head of the Parliamentary Division (Sierra Leone), UN Legal Expert and Legal Draftsman (St. Kitts and Nevis), ICAO Air Law Legislation Consultant (Pakistan), UN Legislative Drafting Specialist (Papua New Guinea) and ICRC Legal Adviser. He served as Executive Director of the Bandaranaike Centre for International Studies in Sri Lanka under the late Prime Minister, Sirimavo R. D. Bandaranaike and traveled extensively to many parts of the world.
Later on, he served as Sri Lanka's Ambassador to Austria and was also the Permanent Representative to the United Nations in Vienna. During this period, he was a member of the UNIDO Board and the IAEA Board of Governors. He also participated in the negotiations of many multilateral treaties as Head of Delegation for Sri Lanka and chaired several UN Committees and consultations. He is the author of two books on Constitutional Law and Legal Systems, and has published several articles in refereed journals.
He now serves as CFTC Legal Expert in Legislative Drafting at the CARICOM Secretariat, Georgetown, Guyana (South America).
Dayantha Mendis has been seconded by the Commonwealth Secretariat to act as an instructor of students from CARICOM States who have received Commonwealth scholarships to study for the diploma.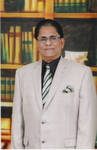 Updated November 06 2014 by Student & Academic Services