Segametsi Mothibatsela
Instructor
Contact
Education
LL.B - Bachelor of Laws (University of Botswana and Swaziland)
B.L. - Barrister-at-Law (Nigerian Law School)
LL.M. - Master of Laws (University of the West Indies (Cave Hill))
Biography
I have been a legislative drafter since 1981 and have, since July 2010, been based at the Caribbean Community (CARICOM) Secretariat in Georgetown, Guyana as a CFTC Expert in Legislative Drafting. An important part of my mandate at CARICOM is to assist in the training and mentoring of legislative drafters in the CARICOM Member States, particularly in the more vulnerable of those States. I have significant experience of working in the region having been previously stationed as a CFTC Expert in Legislative Drafting in the Commonwealth of Dominica.
From 1981 when I was called to the Botswana Bar, I served in the Attorney General's Chambers of my native Botswana as a legislative drafter and became Head of the Legislative Drafting Division for several years. Between 1983 and 1985, I also practiced as a Barrister in Ibadan, Nigeria, and then served as a legislative drafter in Ogun State, Nigeria, before returning to the Attorney General's Chambers in Botswana.
I retired from the Botswana Government in 2005 as Acting Deputy Attorney General and Head of the International and Commercial Division of the Attorney General's Chambers, but remained active in the field of legislative drafting.
Prior to my posting to CARICOM, I was a legal consultant in Botswana and carried out a number of significant drafting projects for clients such as the Southern African Development Community (SADC), the International Labour Organization, and the Botswana Government. I also sat as legal advisor on several bodies in Botswana, which included the Tax Review Committee, the Tax Adjudication Board, the Botswana Medical Professions Council and the Botswana Tourism Licensing Board.
I trained in intellectual property rights at the World Intellectual Property Organization's Academy in Geneva, after which I conducted several education campaigns in Botswana on copyright law. I was also responsible for organizing Botswana's first WIPO Seminar on Copyright in 1995.
Ms. Mothibatsela has been seconded by the Commonwealth Secretariat to act as an instructor of students from CARICOM States who have received Commonwealth scholarships to study for the diploma.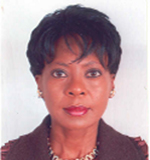 Updated November 06 2014 by Student & Academic Services